Virtual Live Animal Encounters
Zoom us into your classroom today! Live Animal Encounters are fun, educational and interactive ways to get your students learning! Pay online today and we will contact you to get your class scheduled!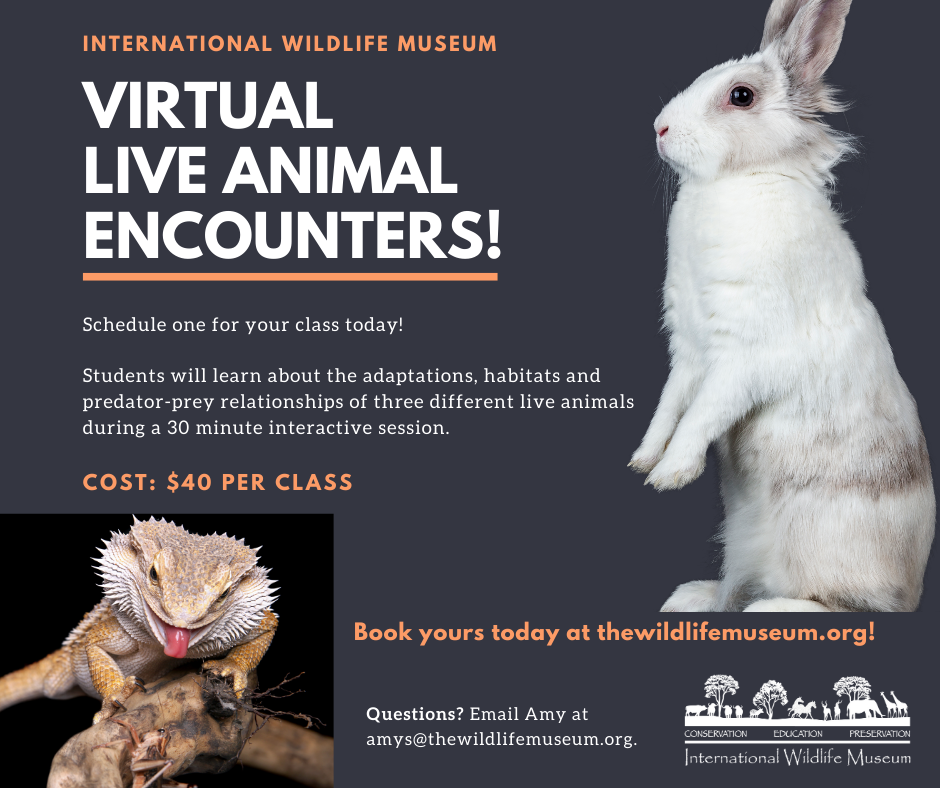 Outreach Programs at Your Location
Let the Museum come to you! Outreach programs are a great way for your group to learn more about a particular topic as Museum Educators bring knowledge, touchable wildlife items, and live animals to your site. Programs are cross-curricular and based on the Arizona Academic Standards for grades EC-8. Programs can also be held at the museum during your field trip. The museum can travel to locations in the greater Tucson area.
Preschool Discovery Outreaches
These programs are a great way for your preschoolers to learn more about animals, their adaptations, and the habitats they live in. Museum educators read a book and share touchable wildlife artifacts and live animals at your school during a 45 minute program.
Choose between:
Rascally Reptiles, Insect & Spider Discovery or Animal Discovery
____________________________________________________________________________________________________
Elementary School Outreaches
Grades K-5
Reptile Rally – Learn about the different reptile groups by viewing live members of the reptile family. Touch an alligator skull, turtle shell, and snake shed to discover the unique characteristics that have helped these "living fossils" survive. (60 minutes)
Outreach Information
Animal Diversity – Meet a representative of each of six different animal groups. Learn the characteristics that define each group and make them unique. (60 minutes)
Outreach Information
Insects and Spiders – Enter the wonderful worlds of spiders and insects to explore the similarities and difference of their body structure and life history. (60 minutes)
Outreach Information
Live Animal Encounter – Get up close and personal with some live critters! Animals vary depending on availability, but may include up to 4 animals such as Madagascar hissing cockroaches, bearded dragon, box turtle, Russian tortoise, kingsnake or ball python. (30 minutes)
Elementary School Outreaches
Grades 2-5
Bone Bonanza – Discover clues about the natural history of an animal by looking at its skull! Examine the difference between an exoskeleton and endoskeleton. Observe live animals while learning about their special skeletons. (60 minutes)
Desert Discovery – Adventure into the desert from the comfort of your classroom. Learn about what a desert is and what makes our desert, the Sonoran Desert, unique and unlike any other desert in the world! Learn about and meet three live animals from the Sonoran Desert, that could include a scorpion, a Gila monster, a desert kingsnake, a Sonoran Desert toad or a tarantula. (60 minutes)
Outreach Prices (at your location)
0 – 30 Students: $75/program
31 – 50 Students: $100/program
51 – 100 Students: $125/program

These same outreaches can be presented while your class is on a field trip here at the museum. The cost is $35/class (up to 30 students per class) while on site at the Museum.